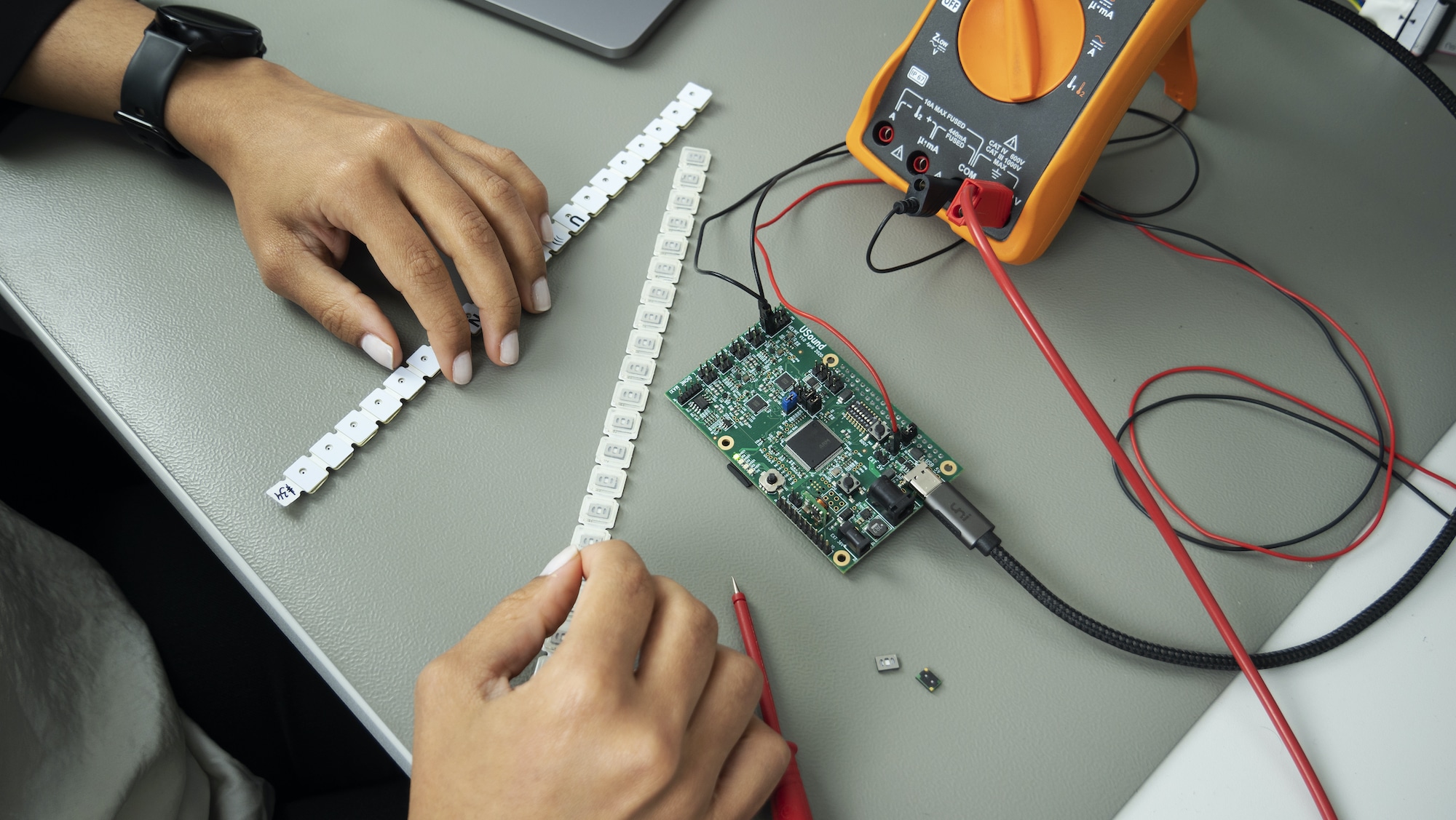 Published:
USound releases a new development board to enable rapid prototyping with MEMS speakers technology
The Helike development board features two MEMS amplifiers and two dynamic speakers amplifiers, an I2S interface, multiple supply options, a digital audio equalizer, and more.
Austrian micro-speaker company USound introduces a new development board named "Helike" to enable engineers to do rapid prototyping with MEMS speakers.
Helike features a set of amplifiers to drive two MEMS speakers and two electrodynamic speakers along with multiple supply options. Helike includes a digital audio equalizer and an algorithm that enables dynamic pre-distortion for an improved THD performance. The board functions in three modes — stand alone, as a USB audio device (UAC 2.0) or as an extension board to the Raspberry Pi platform with a GPIO interface.
The board is compatible with several USound products including the bendable sound stripe, which comes with 20 MEMS speakers and an external amplifier. Furthermore, Helike is compatible with USound's test box for one MEMS speaker; MEMS-based earbuds, and the USound audio module for AR/VR and smart glasses.
This new development board is targeted at audio engineers who are ready to enhance their audio systems with MEMS speakers technology. Furthermore, USound strives to empower makers and university students in sound engineering programs. "We believe that the maker's community significantly contributes to driving innovation. We want to empower them to tap into the latest speaker technology with a board that allows them to unleash their creativity to design innovative audio-centric devices," says Valeriya Shushunova, product manager at USound.
Helike is available to purchase at Digi-key and soon will be available via other distributors.

Leading innovation in the audio industry
USound microspeakers not only improve existing audio systems with their signature crisp and clear audio but also enable diminishing the diameter and weight of the housing of any wearable or hearable due to the speakers' reduced size.
As a result of MEMS batch processing and a fully automated manufacturing process, the part-to-part variation is the lowest in the audio industry. MEMS speakers comply with international reliability standards to ensure robustness and stable performance over the product lifetime.
Compared to other MEMS-based solutions available, USound MEMS speakers meet the market-demanded SPL requirements in the entire audio bandwidth and beyond, which enables not only sealed applications such as in-ear but also free-field and near-field applications such as wearables and ultrasound applications.
The first generation of USound MEMS speakers is available through the Digi-key website, and the second generation of USound MEMS speakers and a dedicated smart amplifier are already being sampled to selected customers.
About USound
USound is a fabless audio company offering high-performance silicon speakers and high-quality sound solutions based on MEMS (Micro-Electro-Mechanical Systems) technology, safeguarded by over 150 filed patents. With its offices in Graz, Vienna, San Francisco, Shanghai and Shenzhen, USound serves international customers, enabling them to create new smart audio applications with MEMS speakers.